blog, data science, python, Software
FAST TRACK: There is some python code that allows you to scrape bike availability from bike schemes at the bottom of this post…
SLOW TRACK: As a recent aside, I was interested in collecting Dublin Bikes usage data over a long time period for data visualisation and exploration purposes. The Dublinbikes scheme was launched in September 2009 and is operated by JCDeaux and the Dublin City Council and is one of the more successful public bike schemes that has been implemented. To date, there have been over 6 million journeys and over 37,000 long term subscribers to the scheme. The bike scheme has attracted considerable press recently since an expansion to 1500 bikes and 102 stations around the city.
I wanted to collect, in real time, the status of all of the Dublin Bike Stations across Dublin over a number of months, and then visualise the bike usage and journey numbers at a number of different stations. Things like this: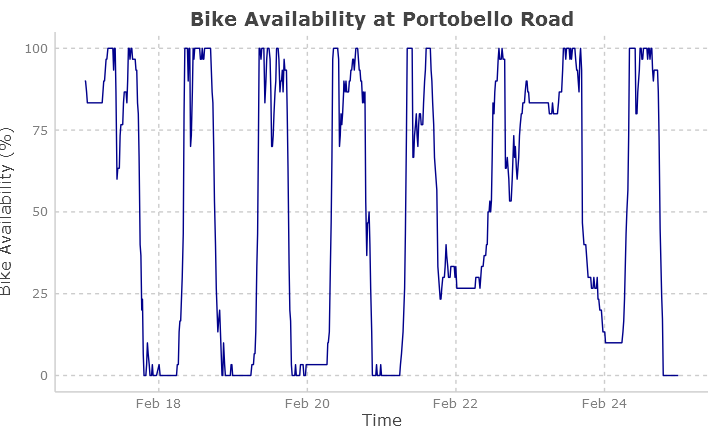 There is no official public API that allows a large number of requests without IP blocking. The slightly-hidden API at the Dublin Cyclocity website started to block me after only a few minutes of requests. However, the good people at Citybik.es provide a wonderful API that provides real-time JSON data for a host of cities in Europe, America, and Australasia.